Admissions Process
We are currently accepting applications for Classes from 1st to High School for
the 2021—22 academic year.
Who Can Apply
Sahara Christian Academy  accepts students despite their race, color, national or ethnic origin, sex, age or status in keeping with the above philosophy we give the regard to the following.
The applicant must have attained the age 3 years by April of the year in which he/she wishes to enter the Academy.
Objectives certificate and a recommendation letter from the head of the institution last-attended with official transcript if any.
Admission of Transfer Students
Following criteria will be observed in admitting the transferred students:-
Required proper academic qualification.
Satisfactory academic performance.
A special character certificate and No objection certificate -from the head of the institute
Students should secure min. 50% marks in an attendance examination set by previous school compulsory
Interview and entrance Examination
Every applicant, seeking admission in SCA for any classes, must appear for an interview scheduled by the academic committee with parents and guardians. Having passed the interview the candidate is required to appear for entrance test for passed class on education knowledge general knowledge and English from class one to class eight. Each applicant must secure minimum 50% marks to be selected.
Contact for Admissions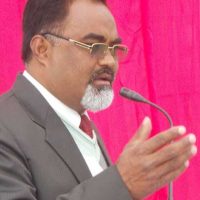 Mr. R. Stephen Diyali
Mrs. R. Radhika Diyali